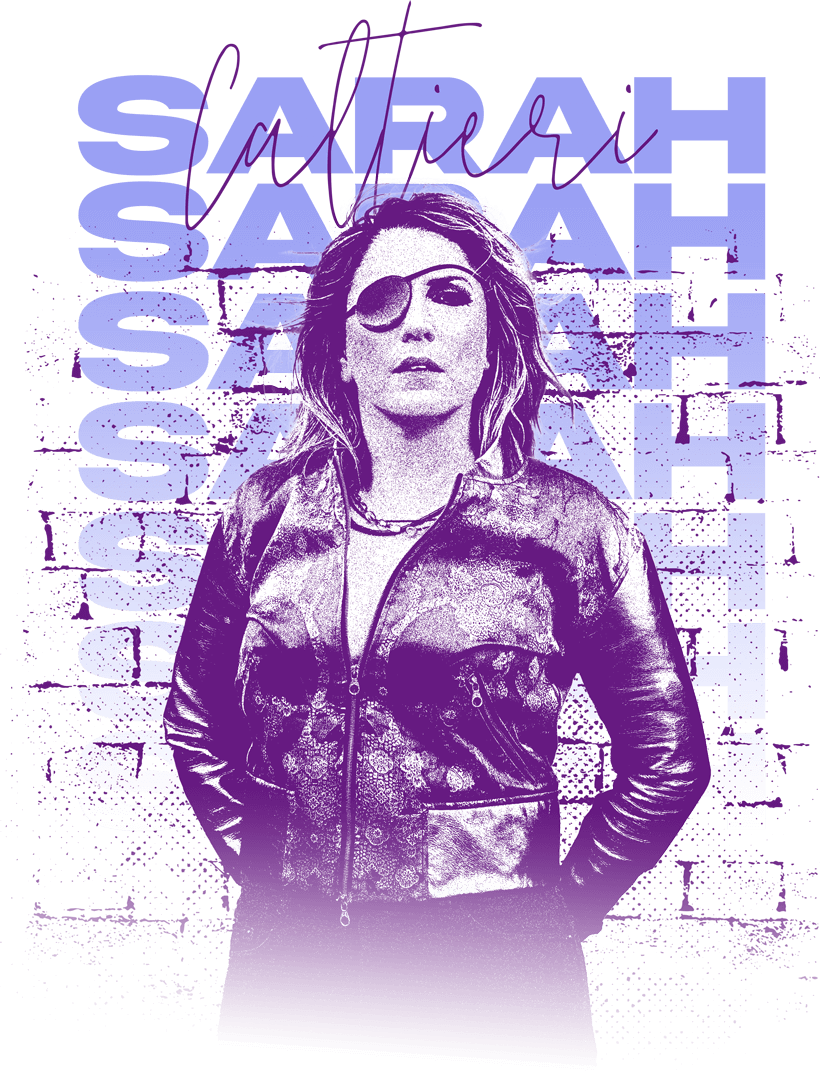 ABOUT
Sarah Caltieri is a singer, songwriter, recording artist, actor and activist. She is a fiery force to be reckoned with, a powerhouse steamrolling through the prismatical tapestry of life and churning out silver-toned music. Entranced at the age of 11 by Jesus Christ Superstar's bedazzling performance and the flamboyant showmanship of Freddie Mercury the chanteuse wanted all the glory, all the music and all the neons of life in the fast lane.
Beginning at the age of 12 with a small-scale performance of Bohemian Rhapsody at her school, the internationally-acclaimed artist paved a path straight to the stage she is now the locus of.
Despite the success, Sarah had her fair share of adversities and her journey to stardom wasn't always rosy. At the age of 23, her vision was affected by a Type I diabetic eating disorder causing her to lose most of her vision. This, however, didn't stop her from being a visionary - instead, she made it her strength and advocated for it. The multi-faceted icon with a core of iron always emerged with a smile.
At the crux of her career, the soft-voiced siren received much acclaim for the BAFTA award-winning UK series "Cutting Edge", a documentary based on her life that features her own song collaborations, and went on to garner over a million views along with being pick of the week in all major publications. Sarah flaunted her talents on screen, singing on GMTV's Lorraine and Scotland's Live at Five, appearing on local news channels along with a chat show "Doctor Doctor," and was even a regular artist on renowned programs including Radio Leeds.
Although Sarah took a step back from the mainstream media to focus on rehabilitating herself and finding her way as a partially sighted performer, she has still been a vocal regular on independent radio stations and news publications, settling in Scotland where she continued gigging, collaborating, and acting, including multiple leading roles in stage plays as well as minor screen cameos. During her time there Sarah was appointed as the director for Limelight Music Productions whilst fronting their in-house band and her own pop/rock band. Collaborating with the triple-platinum award-winning producer and visionary Duncan Cameron, Sarah recorded her 1st album in 2017 entitled "Something I Couldn't Say". The first single "No More Tears" was premiered on Scotland's Radio Saltire and subsequently played on multiple independent FM radio stations globally. It also premiered on Scotland's biggest Indie radio station and, in the mere span of 2 weeks, was picked by Australia's Valley FM as one of their Top 20 records and had a debut on STV's Live At Five. Sarah's second brainchild, "If I Said," was a masterstroke that became record of the week on Wolfman Radio Station and consequently, the album itself received the same honour. Refusing to tone down her pace, Sarah's promotional single, "Stranger to Me Now" racked up hefty numbers and reached number 5 on the Indie Radio Alliance.
Fuelled by her success, while Sarah was recording her 3rd EP in London, she performed a one-woman show called Tinted at Bloomsbury Theatre which was geared to her rock'n'roll persona and also had a cameo role in the TV series "Derek" by Ricky Gervais. The EP recording was cut short because of the Covid outbreak so she decided to release "Higher Than Before" as her 3rd single. Her fourth song release, also during lockdown, was "Reflections", and her 5th song release was "Yesterdays". This was co-written and produced with Simon Bradshaw and played on multiple international and FM radio stations followed by the dance remix version. "Before The Sun Goes Down", her 7th single was also co-written and co-produced with Simon Bradshaw, and was Sarah's summer-autumn anthem of 2022.
Apart from being a full-time diva, Sarah has also formerly been an activist and philanthropist, focusing her energy on advocacy work for Juvenile Diabetes Research Foundation (JDRF) for whom she had previously been appointed as Ambassador, taking part in a 5k run in London. Sarah also had an active part, speaking about her own experience in a national Parliamentary Campaign with Sir Steve Redgrave for Diabetes UK in Westminster. The campaign's success led to eye-screening equipment being placed in all diabetic clinics in the UK to prevent sight loss. She contributed to raising awareness of the Type I diabetic eating disorder EDMT1 by organising a campaign in Holyrood Parliament for national eating disorders awareness week with SMP Dennis Robertson and Jacqueline Allen from the charity DWED. "The Road," one of her song collaborations was played in parliament as part of the campaign and was subsequently released. She also wrote the theme tune "Have a Cuppa Tea" for RNIB Scotland podcast series "Seeing Our History," the lyrics to which literally went down in history as they were published in the enlightening book by Dr Iain Hutchison "Feeling Our History". Sarah has also worked tirelessly over the years to try and break down some of the barriers within the entertainment industry and within society for partially sighted and blind people, including educating companies about accessibility and inclusivity and taking full control of her image and the way she wants to be perceived by society. Sarah has also performed in a number of festivals to promote the inclusivity of artists with disabilities.
The global icon has not only amassed massive acclaim for her music, acting, and philanthropy but has also received various awards for her endeavors. Sarah was awarded the coveted John Connor Award for personal achievement, the Customer Learner Of The Year, and was the first recipient of the Vision Award for Arts and Entertainment Personality of the Year after her work was tracked in the media.
Apart from her scintillating music, Sarah also has a flair for fashion and is often seen donning flamboyantly sophisticated outfits, complete with an equally exuberant eyepatch and designer non-white cane. Her most recent single (her 8th) "Old Habits Die Hard" is available to stream on all major platforms.
Principal singing/ stage roles include:
Tinted, (one woman show), London
The Entity (one person drag act, self-written), London
The Words are coming now (multiple roles, response to "Me Too"), London
The Last Freak Show, (Psychic Salome), Edinburgh
Full Circle, (Meisie), London
A Christmas Tale, (Henriette Wolfe), Edinburgh
Marat Sade, (Polpoch), touring
How The Light Gets In, (Pru), Leeds.
The Threepenny Opera (Lucy Brown), touring
Freedom Sings (Angel), Leeds
Cabaret, (Sally Bowls), Leeds
Naked Lullaby music video, (self-written, co-directed and starred in by Sarah)
ITV Derek, (cameo), Ricky Gervais
The Evie Project, (principal role), London
Oxsight For Sight, (online ad campaign)
Picking Up The Pieces (documentary for channel 4's BAFTA Award-winning Cutting Edge Series, starring Sarah and some of her life story)
Diet Doctors, Channel 5 (playing self in documentary about health)
Face of Dove, (online deodorant ad, co written and assisted with directing, for which it won a Silver Award in the British Television Advertising Awards)
John Connor Award for personal achievement
One Vision Award for Arts and Entertainment personality of the year
Customer Learner of the year, Leeds
City Council, (for role of Angel in Freedom Sings), Leeds
Sarah's Secret Sofa, "Society's questions answered about some "blind myths." (Non violent fun ed).
Limelight Music Productions, Scotland, on board of Directors and fronted in house pop/ rock promo band with Jamie Duffin
Ambassador for Jeuvenille Diabetes Research Foundation London 5k run
National Eating Disorders Awareness, Hollyrood parliamentary campaign with DWED and MSP Dennis Robertson, raising awareness of Diabetics with eating disorders.
Main parliamentary speaker for Open Your Eyes Campaign (Westminster) with DUK, Sir Steve Redgrave, Jimmy Tarbuck to have eye screening equipment placed in hospitals nationally to prevent diabetic retinopathy.
Diabetes Through The Looking Glass, featured in a published book by Dr Rachel Besser.
Youth Health Talk, (Primary Healthcare Trust and Oxford University, managing teenage T1 diabetes)
For all contact enquiries please email info@
EMAIL
sarahcaltieri.com